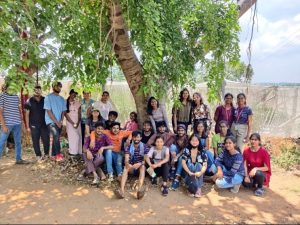 On a beautiful morning, a group of 35 people from our college visited a farm in Malur. We started our journey in a college bus and reached the farm in about an hour. As soon as we reached the farm, we were greeted by the owner who welcomed us with a refreshing drink of fresh coconut water, right from the tree. It was an amazing experience to drink the tender coconut water that was so fresh and pure.After the refreshing drink, we were taken on a tour of the farm.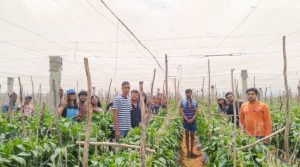 We saw a capsicum farm and a chrysanthemum flower farm, both of which were beautiful and well-maintained. It was fascinating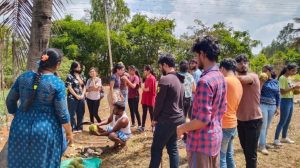 to see the different varieties of capsicum and flowers growing in the fields. The farm also had cows, hens, and sheep, which added to the rusticcharm of the then had the pleasure of having traditional village food cooked by the natives of the house.The food was cooked with love and care and it tasted delicious. We got to taste some of the authentic dishes of the region, which were spicy and flavourful. The food was served on banana leaves, which added to the experience.We spent the whole day at the farm, enjoying the greenery and the fresh air. It was a great opportunity for us to experience the rural lifestyle and learn about the farm'sworkings.
We also got to interact with the locals and understand their way of life. Overall, it was a wonderful day spent amidst nature, enjoying the beauty of the farm and the warmth of the hospitality.