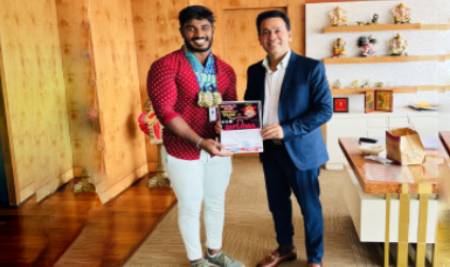 A New Horizonite Wins 3 Gold Medals 
Winning three gold medals in a single national championship is a difficult accomplishment that requires hard work and perseverance.
Kiran Kumar Reddy, a bachelor's degree student at New Horizon Educational Institutions, won three gold medals in Powerlifting [Deadlift (260 Kg), Bench Press (180 Kg) World Record, and Push-Pull records (440 Kg)] at the Professional Raw Organization's (PRO) Push-Pull Championship, held from 11th to 13th March 2022, in Bengaluru.
Kiran Kumar Reddy, a young lad who comes from a humble background, worked hard and succeeded. At the age of 18, he became a professional athlete. It is commendable that he also won five gold medals, setting the world record in powerlifting, in the same year at a world cup held in Russia. As a result, at a very young age, he earned the title of International Athlete.
"There wasn't enough money to compete," he explained, but subsequently Dr. Mohan Manghnani, Chairman of New Horizon Educational Institutions, stood by him and helped him achieve success. He has also offered him a free master's degree program at his university.
Dr. Mohan Manghnani stated, "He is not only the pride of New Horizon Educational Institutions but also of the nation." He concludes, "Today's generation should come up with new ideas and talents to compete successfully.